| | |
| --- | --- |
| Pawsitive Spin Dog Training and Boarding | |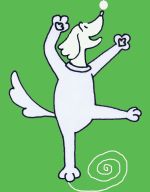 Pawsitive Spin Dog Training and Boarding
(250) 559-8807
This e-mail address is being protected from spambots. You need JavaScript enabled to view it

Pawsitive Spin is a dog boarding and training facility located across the highway from Jungle Beach in Lawnhill, between Skidegate and Tlell.  The 154 acre property has a well-fenced half-acre field for off-leash exercise and training, several smaller fenced areas, a heated kennel with indoor/outdoor runs, several kilometers of private, wooded walking trails, and a very dog-friendly home.  There are several isolation areas where dogs can be quarantined when necessary.
Owner/Operator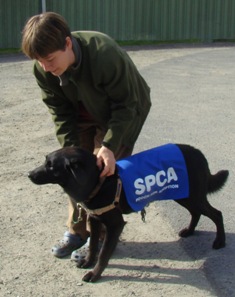 Shane Windatt has been volunteering for the Queen Charlotte Islands SPCA since moving here in 1999, and has fostered hundreds of dogs in her home.  In 2004, she attended the San Francisco SPCA Academy For Dog Trainers, and returned to the islands to open Pawsitive Spin.
"I've always been interested in animal training, but what really motivated me to take a professional-level dog training program was the SPCA dogs I was caring for.  I'd ended up with a couple of dogs that were too aggressive to adopt out to the public, and I wanted to rehabilitate them if that was possible.  I knew I wasn't knowledgeable enough to be making life and death decisions for them, so I had to educate myself."
Shane regularly updates her knowledge through books, dvd seminars and audio courses on canine behaviour and training.  In 2009 she qualified to become a certified trainer through CCPDT (Certification Council For Professional Dog Trainers.)
Methods and Philosophy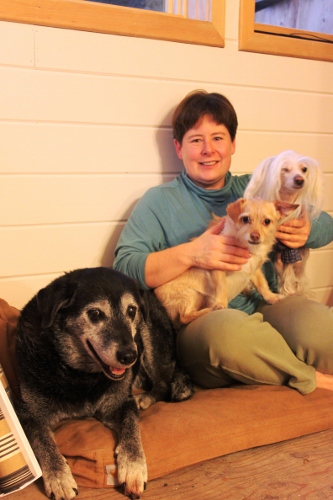 Learning should be fun and rewarding for your dog.  With the name "Pawsitive Spin", there's obviously a big emphasis on moving away from traditional, correction-based training.  Choke collars, prong collars, physical punishment and electric shock are never used.  Training methods are gentle and focus on building positive behaviours and a sense of partnership between trainer and dog.
Shane spends a lot of time watching dogs, noticing what they enjoy, what they don't, what scares them.
"You have to look at each dog as an individual.  Dogs aren't all the same; they don't all react in the same way.  What works for one dog won't necessarily work for another."
Understanding what matters most to each dog is key in gaining its cooperation.  She usually starts off by using food to motivate dogs to learn new things, because most dogs like to eat.  But if she sees that a dog prefers praise or play or that all he cares about is tracking a scent or running as fast as he can, she will try to use that as his reward for doing what she's asking.
"There are still some people who are against using food to train dogs, but that is mostly because they have seen poorly trained animals who won't perform without an edible bribe.  A fully trained dog will do what you ask without knowing there is a reward in it for him.  You have to feed your dog anyway, so why not make him work for it?"
Boarding Your Dog
"  I have a small dog that hates being separated from us and also has some medical problems. Shane welcomes him into her home and gives tender loving care complete with medication as needed. He wags his tail when we leave him and looks content when we return. I couldn't travel as much as I do without Pawsitive Spin. "
-Carol Kulesha, QC
Pawsitive Spin is not a typical boarding kennel.
"I wanted to make it a place where someone like me would feel comfortable leaving her animals," says Shane.  "My dogs are used to a high level of human companionship and exercise.  A kennel environment would really stress them out.  And finding a petsitter I'd trust to keep them safe…  Well, I'm very fussy.  Last time I had my parents fly out from Ontario because I couldn't find anyone locally!"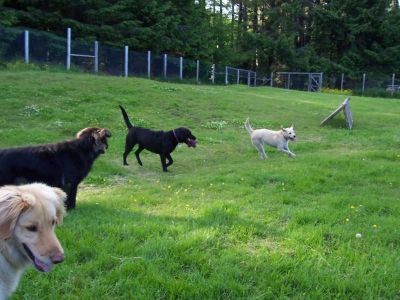 There is a maximum of 6 boarders at any one time, so that all the dogs will receive adequate personal attention.  Most prefer to live in the house with Shane and they do…provided they get along with each other.  Dogs who prefer their own space are housed in a heated indoor/outdoor kennel.  A fully fenced field provides a safe, off leash play space for dogs to run, chase balls, and cut loose.
Aromatherapy (Dog-Appeasing Pheromones, lavender) and recorded music are used in the house and kennel to promote a calm environment.  Chew and food-dispensing toys are provided when appropriate to keep dogs busy and entertained.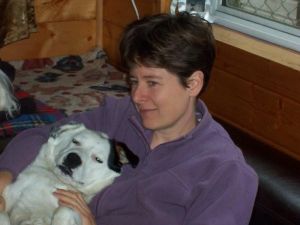 "I do everything I can to keep the dogs happy.  I'm with them pretty much 24 hours a day, so their emotional states affect my own.  If a dog can't be happy unless she sleeps in my bed, then she's likely going to be sleeping in my bed."
One dog: $25 per night

Second dog: $15/night

Monthly rate: $500
Training Your Dog
INDIVIDUAL ONE-ON-ONE TRAINING: (Customized Training for You and Your Dog)
Focus can include basic obedience, problem behaviour, socialization, anti-aggression, tricks, agility, or assistance dog training.  $25/hour*  Discount rate available for 5 or 10 hour packages, save 10-20%
GROUP CLASSES:
We run group classes when there is a demand.  Contact us to be put on a wait list or consider one-on-one coaching.
Basic Obedience: 6-week course includes sit, down, stay, come when called, loose leash walking, drop it, leave it.  Suitable for puppies or adult dogs.
Tricks: Learn how to shape new behaviours.  Teach cute tricks or useful skills.
Agility 101: A basic introduction to the sport of agility.  This is a great way of building canine confidence  and will help build a stronger relationship between you and your dog.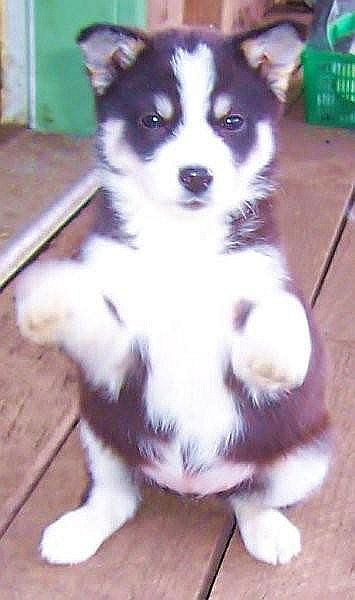 BEHAVIOURAL CONSULTATION: (Assessment, Evaluation, and Plan of Action)
A highly individualized process for those who need help figuring out why their dog is acting as he is and what to do about it.  If you are having issues with housebreaking, aggression, fear, or anything else not solvable by basic training, contact us for a consult.  Includes an extensive  interview with the owner (preferably in the home and including other family members), a dog assessment, a  behavioural plan, demonstration and coaching of suggested training techniques, and follow-up support by phone or email.
BOARD & TRAIN: (Come Back to a Better-Trained Companion)
Minimum of 3 training sessions per day plus exercise and play will keep your dog stimulated.  Owners receive coaching at the end of the boarding period to maintain and improve their dog's new skills and/or a dvd showing their dog's training process
$50/day for short-term training  $40/day for 2 weeks or longer*
*We support the creation of an island economy and are happy to accept barter in lieu of payment.
---
Pawsitive Spin Dog Training and Boarding
(250) 559-8807
This e-mail address is being protected from spambots. You need JavaScript enabled to view it