| | |
| --- | --- |
| Success By 6 Haida Gwaii | |

*Literacy *Nutrition *Children's Play *Parenting Skills *Development & Cultural Programs
Phone:  250-637-1700
Email: This e-mail address is being protected from spambots. You need JavaScript enabled to view it
About Success By 6
®
Success By 6® is an early childhood development initiative dedicated to providing all children with a good start in life. It helps to ensure that children ages 0 to 6 develop the emotional, social, cognitive, and physical skills they need as they enter school.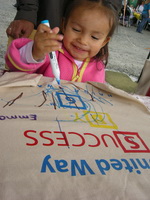 Success By 6® builds and enhances community through engaging citizens in early childhood development, and funding programs that strengthen services for young children and their families. Funded programs include literacy, nutrition, children's play, parenting and family skills development.
Prevention-focused, research-informed and community-based, Success By 6® envisions a community where all children are valued, respected, nurtured, loved and given the opportunity to develop to their full potential as creative, caring, competent and responsible adults.
Principles
Every child on Haida Gwaii experiences healthy development
To jointly advance Early Childhood Development on
Haida Gwaii
To build the capacity of parents and communities throughout Haida Gwaii so that children 0-6 can be:
*  Healthy
*Safe and secure
*Socially engaged and responsible
*Successful learners
*Community-driven *Inclusive and diverse *Collaborative  *Sustainable
Partners

Since April 2003, the Early Childhood Development Provincial Partnership (ECDPP) has successfully facilitated the development of Success By 6® initiatives that reach close to 250 communities across the province, bringing together hundreds of key leaders from all sectors (business, labor, health, education, social services, Aboriginal communities, etc), and raising millions of dollars worth of contributions, including cash and in-kind donations. Funds raised in local communities will stay in the community to support identified early childhood development priorities.
In collaboration with local communities and early childhood development professionals, the ECDPP continues to build "child-friendly" communities and support the healthy growth and development of young children and their families.
Success By 6® Haida Gwaii Projects: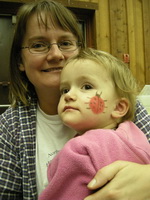 Strategic Implementation for 2011/2012:
-Skidegate Health Center - Car Seats for babies
-New toys for the Alma L Mathers Elementary School Strong Start
-Northern Health Books for Babies
-Port Clements Elementary School Strong Start Playground
-Bond to Literacy - Healthy Snacks
-Skidegate Preschool - snacks and supplies
-Old Massett family center- Haida books development

Aboriginal Engagement for 2011/2012:
-Chief Matthews School - Naturalized playground project
-Old Massett Family Center - Car seats for babies
-Old Massett Family Center - Toy and resource lending library upgrade
-After School Sport and Snack in Massett
-Infant Toddler playground for Skidegate Daycare
-Creation of picture books and multi-media resources to distribute amongst the community of Old Massett for Xaad Kil learning
-Old Massett In Town Rediscovery
-School District 50 Parents As Literacy Supporters (PALS) program purchase of aboriginal books and drum making supplies as well as delivery of culturally responsive education
-Creation of the 2nd and 3rd set of books with accompanying CD's continuing from set one of the Gidgalang Xaayda Kil Sk'aadga Dii "Children Learning the Haida Language" series. by the Skidegate Haida Immersion Program (SHIP)
-Skidegate Nursery School - Building cultural resources program
-Sk'aadga Naay Elementary School - First Nation resource Library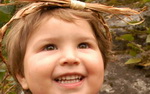 Make Children First projects for 2011/2012:
-Skidegate Health center - Girl Power program
-Haida Gwaii Fitness Association - rock climbing instructors training
-Haida Gwaii Bike Re-Psych - New tools ad trailer
-Haida Gwaii Society for Community Peace - girls trip to leadership conference
-Jaada Time - hoola hoop extravaganza
-Living and Learning School - Afterschool programs
-Mount Moresby Adventure Camp - Forest Stewardship Program supplies
-Skidegate Education - My Tween and Me program
-Port Clements Volunteer Fire Department Teen Center - Life skills and Sport program
-Sandspit Recreation - Art classes and Open gym nights
-Sk'aadgaa Naay Elementary School - Greenhouse project
-Swan Bay - Preteen camp
-Tahayghen Elementary School  - winter activities program
-Tidal Elements Whole School Society - French For Fun program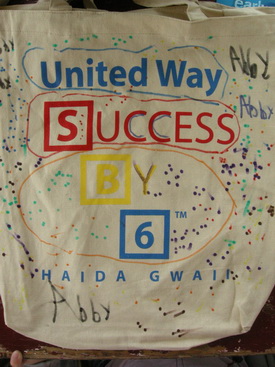 Capacity Funding 2011/2012:
-the 2012 Early Learning Forum - Dr Lynn Miller
-Literacy Haida Gwaii - Read on Write on
-Child Safe First Aid Sponsorships
-Haida Gwaii Trader - Community Calendar and Ride/Ship Share
-Bienenstock Naturalized playground consultations and workshop (coming late April)
-Kerri Isham - Power Up workshops (coming mid May)
-Justice Institute - Marg Diebert car seat training (coming mid May)
-CCRR and partners - bags for new babies
Some other Success By 6® Initiatives: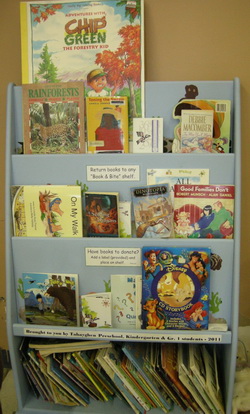 Book & Bite Bookshelf Travelling bookshelf with children's books.  Location changes every 2 months to an eatery near you!  "Read while you wait or borrow 'til a later date."  Books can be borrowed from any shelf and returned to any shelf-no sign out needed, just enjoy!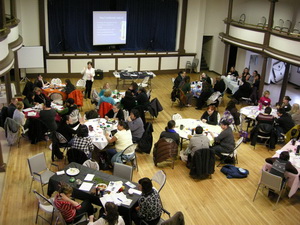 Early Leaning Forum 2012 with
Dr. Lynn Miller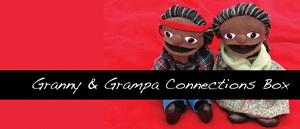 The Granny & Grandpa Connections Box A nationed based resource delivered to Haida Gwaii in 2011
Naturalized Playground at Chief Mathews Elementary School in Old Masset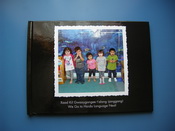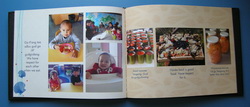 Language Nest Books for families.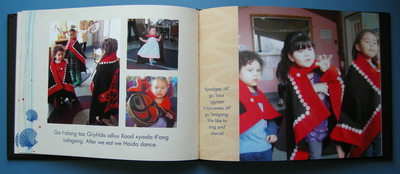 ______________________________________________________________

Email: 

This e-mail address is being protected from spambots. You need JavaScript enabled to view it